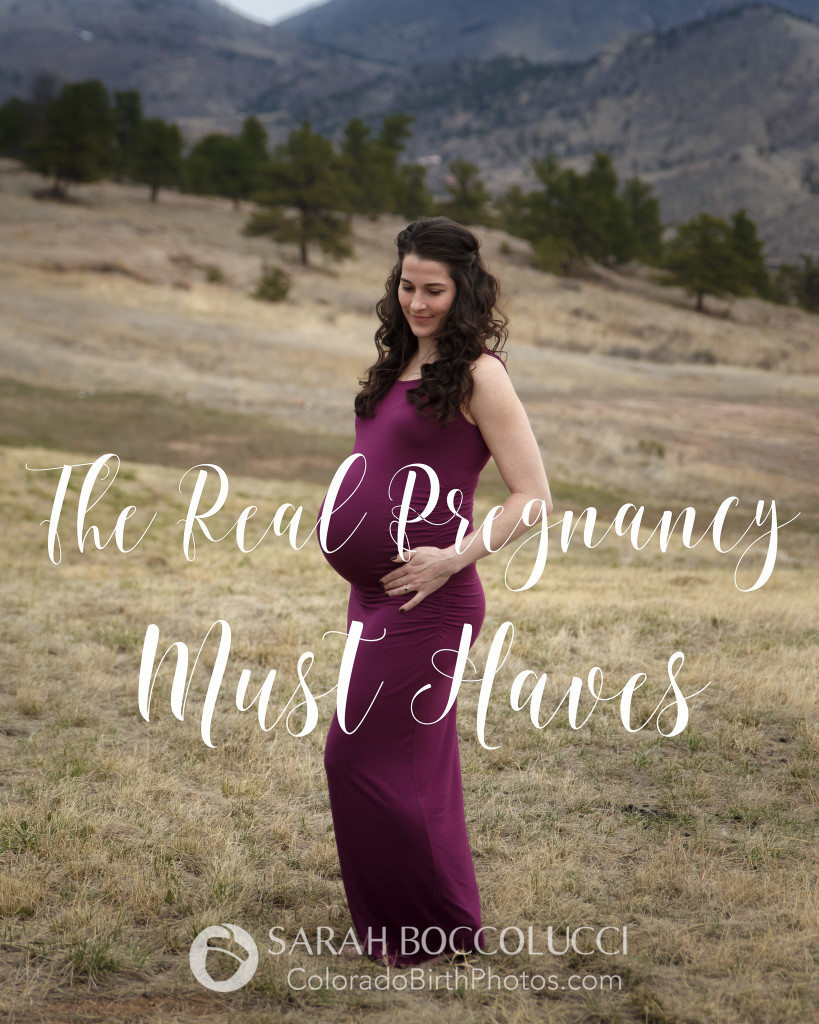 You just learned you are pregnant and already have started to feel overwhelmed by everything you are told you need. Last time I checked, the "essentials" list from a big box baby retailer it was a small book! Here is concise list put together with help from veteran moms that also are birth professionals.
Pregnancy Must Haves
Childbirth Education Classes
This is a biggie. You are going to birth a small human being and a little education can go along way. Spend some time learning what options are available in your community and pick one or two that feel right. Some childbirth classes teach you a method, such as using hypnosis, others are a general education, with more of an emphasis on the mechanics of birth. Please don't have your birth education come from online forums, the book "What to Expect When You Are Expecting" (why is that still even in print?), or from your family and friends telling you their horror stories. If you are local to Colorado and are looking for recommendations, I can help you out.
A Trusted Care Provider
This one can have the biggest effect on how you view your pregnancy and your birth. Ask yourself, "Does my doctor/midwife make me feel safe, listened to, important." If you can't answer yes to all three of those questions, start looking for one that does. You need to absolutely, 100% trust that your care provider is on the same page as you. Don't shy away from asking the questions that are important to you and know that it is never too late in your pregnancy to change providers.
Maternity Photos
You are creating a baby. You may not feel the most beautiful you ever have, or maybe you do feel like a radiant goddess- either way, document this time somehow. You will never regret having those photos. You and your body are amazing, know this is true. You can contact me to get your's scheduled!
Bella Band Or Something Similar
This was a life saver for me, especially at the end when shirts never seemed to cover the bottom of your belly. Black, white, nude. You can even use them in your maternity pictures and will definately find them useful after baby is here and you are lifting up your shirt 1000 times a day to nurse. I was more self conscience about my belly than anyone seeing a hint of boob!
Comfortable Clothes
Now is the time to fulfill those dreams of living in yoga pants, sweat pants, leggings, and long maxi dresses. Go all in.
I love this dress-
Lessons In How To Install a Carseat Properly
When I was pregnant with my first I brought my carseat down to the local fire department and thought they would install it for me. Nope! I had to do it all myself with their direction. At first I was annoyed but then I realized it was an important lesson since they wouldn't be there everytime I needed to change out the carseat or check to make sure everything was still installed correctly. AAA reports that over 75% of carseats are installed incorrectly, lets work to bring that number way down!
Good Food and Exercise
Haven't been eating the best foods, now is the perfect time to introduce healthier habits into your routine. Small changes over time will make a big difference. Same with exercise. Be safe, listen to your body or even seek out a class specifically geared to pregnancy. Even a short walk everyday can help you prepare for labor.
Special thank you to the following ladies that helped me put this post together.
Kim Rodgers of Brink Street Photography
Paige Driscoll of Santa Cruz Birth Photography & Doula Services 
Robin Greene Baker of Birth Blessings Photography & Childbirth Services