$200 for Placenta Encapsulation Services & Tincture.
$25 discount when paired with doula or photography services.
Metal keepsake bracelet available for $25.
Contact me for more information.
I now offer opaque, berry-flavored capsules for an additional $10!
I offer Placenta Encapsulation services in either the Traditional Chinese Medicine (TCM) or the Raw method. For TCM, the placenta is lightly steamed with lemons, ginger & cayenne pepper. In TCM theory, the process of labor and birth leaves a lot of open, empty space, which is considered very yin, or cold. Therefore, one major way to promote healing during the postpartum period is to add yang energy via heat. Raw placenta is considered extremely cold, and therefore inappropriate for extended use during the first few months after birth. By incorporate steam & warming herbs the final result is warming, tonifying, & nourishing for the postpartum.
The Raw method is based on the idea that heat destroys vital enzymes in the placenta. The preparation is restricted to temperatures less than 118 degrees F. The theory is that the Raw method also yields more hormones and nutrients than the TCM method.
(source: www.turningtidesmidwifery.com)
For both methods, the placenta will be dehydrated and put into capsules. Clients will also receive a Placenta Tincture that contains a small piece of placenta in high proof alcohol. This tincture can be used to aid with menstruation and menopause.
Fees include the preparation and encapsulation of the placenta, instructions for storage and handling, and guidelines for taking your capsules. A $50 deposit is due upon signing of contract. The balance is payable upon delivery or pick-up of your placenta. Payments may be made by personal check (payable to Sarah Boccolucci LLC), cash, Paypal or credit card. Please use the Contact Me page to arrange for services.
Safety
To help ensure your safety, I have taken an OSHA-compliant certification course in Bloodborne Pathogens and Infection Control written specifically for Doulas & Placenta Encapsulators. I always wear single-use gloves throughout the entire process, & every item and surface that comes into contact with your placenta is sterilized before and after each use. In addition, I limit myself to preparing one placenta at a time, and your placenta is always properly identified.
Benefits of Placenta Encapsulation
– Increase general energy
– Allow a quicker return to health after birth
– Increase production of breast milk
– Decrease likelihood of baby blues and post natal depression
– Decrease likelihood of iron deficiency
– Decrease likelihood of insomnia or sleep disorders
Keepsake Bracelet
The keepsake bracelet is designed to serve as a reminder of how amazing your body is and the bond you share with your baby. Each bracelet is unique and have been described as beautiful abstract art pieces. The image will be of your amazing placenta and you can choose between a thin or thick metal cuff bracelet and your preference for a color of black and white image.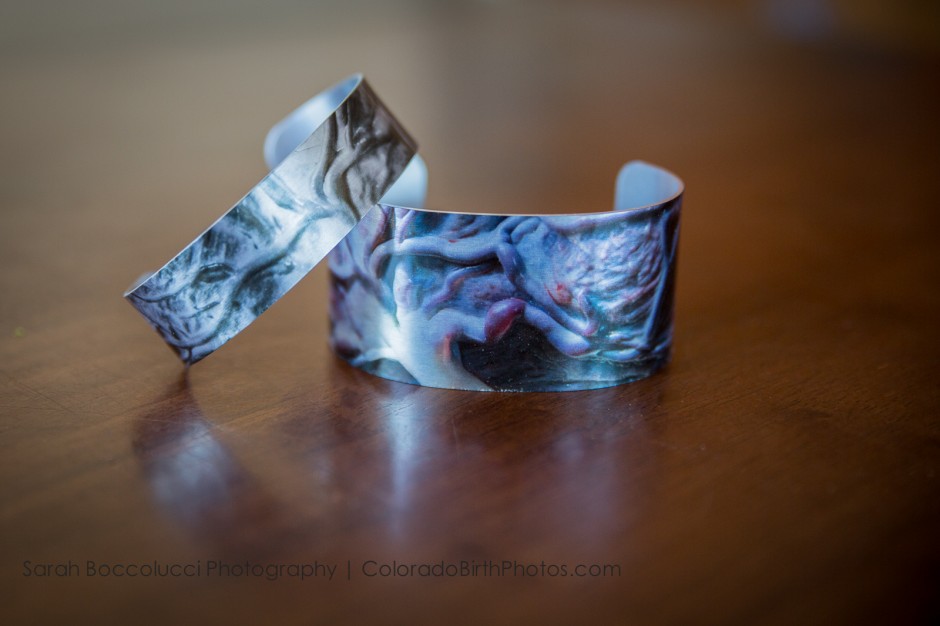 Colorado Placenta Encapsulation Services